Artist of an empathic avant-garde
They are large, highly detailed, digital photoart of 50MB, up to 2.7 meters wide and standing an impressive 2 meters high. Emerging from a translucent fog the skyline of New York City towers above the timeless sand desert of Botswana; both images are instantly familiar but you struggle to define the inner discomfort of the stark contrast. On the next turn the 4 giant feet of the Eiffel Tower straddle the silent beauty of a Patagonian glacier. You turn again and find yourself drawn down a charming avenue that leads out of a 21st century city, rushing through the bustling people, their lives and material possessions flooding out into the remote and barren landscape of a Namibian desert. The end of the line, a life, a dream?
Through Ankes photoart you are able to gather a perspective of the world which on the one hand are part of our day-to-day life, yet on the other are so unfamiliar they appear surreal. It is the combination of the two which in the end reminds us of how alien we risk becoming in our own world. The art of Anke Schaffelhuber delivers bridges the gap between what is known to the human eye and what the mind is capable of imagining; the prerequisite of art is interpretation and this attribute and its belief structure transforms her photography to art. Art can anticipate opportunities for reality which would normally be enshrined in the durability and slowness of the matter. Art brings antitheses together by out maneuvering matter through intellect and nullifies time and structure. Snapshots achieve an eternal character. The art of Anke Schaffelhuber combines the contrast of the First and Third World, of untouched scenery and urbanization, of past and future, of calmness and bustle to an arousing and aesthetic vision.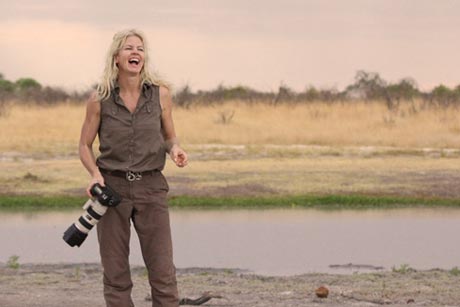 All styles of art have their own origin. The art of Anke Schaffelhuber originated on a trip to Namibia and Botswana; where man and nature are still one, and where the present remains the only significant time zone. Far away from the capital city of Windhoek and only reachable by small shaky planes, she met the nomadic people of the Himbas tribe; their skin is as red as the sandy, bone dry landscape that surrounds them. She encountered Bushmen hunting with only loin skins and spears in Botswana, seemly swallowed by the green and ever-fertile Okavango delta. The "Big Five", lion, leopard, buffalo, hippo and rhino are settled here together with giraffes, elephants and zebras all entwined with these peoples and their lives.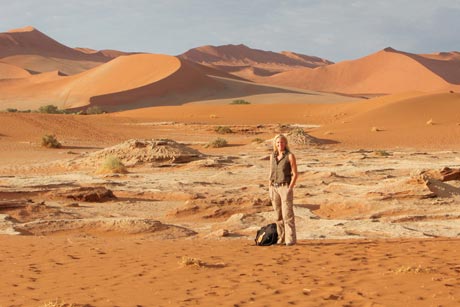 These first impressions were powerful visions that will never fade and repeatedly pull her back to the Dark Continent. Anke Schaffelhuber has captured these experiences in tens of thousands photographs. These encounters changed her and continue to tune her senses to her surroundings arousing her female intuition as she becomes part of the wildlife and is drawn to the dangerous and desolated places of the Bushmen. Anke takes this same sensitivity and intensity along with her unique photography skills to the iconic cities of New York, Paris, Bangkok and the world. With the cold concrete, glass, steel and stone jungle relentlessly marching across the planet she fascinates in capturing these massive footprints that lead you to the thought that the development of mankind and the modern world with its hopes, flaws, and dreams are changing the entire world.
Ultimately, Anke Schaffelhuber successfully intertwines these monumental and often opposing ideologies in designed photography. This form of art originates and evolves through great detail to the technological aspect of subject choice, aspect and shot. Identify the matching images, taking into account the color, the perspective, the depth of focus and many more criteria which make one image compliment the other. These images are then scrutinized in detail; every pixel is part of the overall success. They are merged with each other, each claiming over 100 hours of painstaking work. Fore and background are assimilated with the color gradient, shadows and light. Reality and fiction meld and fuse in her art. She produces approximately ten pieces of this matchless artwork each year. Anke is careful not distort the natural beauty of these images; she does not manipulate or retouch or even magnify her work as some may choose to do. Her art places two truths on top of one another, two realities, which in the process of becoming one, seem fictional but hint of the fear that one day mankind will be swallowed by the cold grey of city life and forever lose contact with nature's fragile beauty.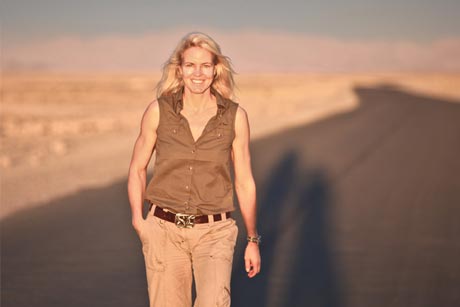 In the end there is one clear thing: Anke Schaffelhuber is an artist, who is a member of a generation, the "empathic avant-garde" of post modernism. Less identified by the surface, form or expression, but by an avant-garde that is defined subtly through an empathic disposition that recognizes art as a special experience (John Dewey). An experience demonstrating a direct relationship between mankind and nature, living and being, acting and reacting, without which we would be lost.
Kat Schuetz
Anke Schaffelhuber
Anke Schaffelhuber was born on the 30th July, 1968 in Iserlohn, Germany and was raised in Deggendorf, a town situated in the middle of Bavaria. From an early age she felt the strong desire to explore the world and to revel in its diversity.
In her early twenties, enthused with youthful curiosity she was drawn to what, at the time, seemed to be the most exciting metropolis in the world. New York City.
Anke was flabbergasted by the "Big Apple" and the opportunity to channel her creative interest at the Art Students League.
After a certain time of academic pursuits her curiosity and travel lust were ignited by an invitation to join a two-month photographic journey across the USA.
Inspired by her experiences on this adventure and equipped with a diversity of images and impressions she returned to Germany to further her education by attending Ludwig Maximilian University of Munich to study economy administration.
On completing her business studies and unwilling to put aside her art Anke enrolled at the Academy of Fine Arts, Munich where she spent her time fuelling her passion for art.
But once again her curiosity for discovery soon set her out again on worldwide travel.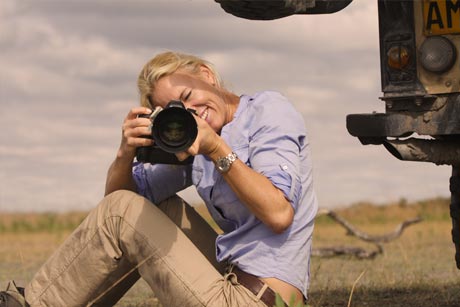 During a visit to Africa in 2003 she once again combined her two great loves by her experimentation with digital photography. Little did she know that this visit would combine in an overpowering love for the Dark Continent and a vast array of photographs capturing the unique beauty of African, its landscape, animals and people.
By 2011 she had traveled to Africa a staggering 18 times and to the present day carries on exploring the beauties of Namibia, Botswana, Zambia, Malawi, South Africa and Kenya. Whilst Africa has captured her heart she is still driven to explore the Western capitals of Paris, London and New York which continue to thrill and excite her with every visit.
Her personal discovery of the uniqueness of Buenos Aires, Bangkok, Berlin, Stockholm, St. Tropez, the Mediterranean coast, the Maldives, Seychelles, Dubai, Abu Dhabi, Marrakech, Bhutan, Mauritius, Turkey and Sicily all serve as a vital source of inspiration for her as an artist.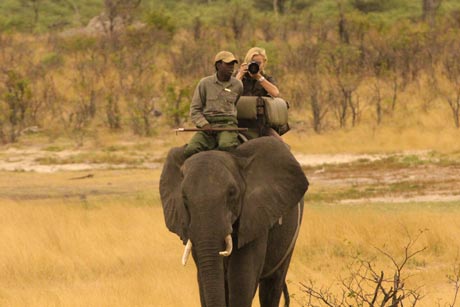 Her art conveys elemental polar differences, creating a striking contrast between two incoherent but recognizable perspectives. Her work tells tales of the first and third world, the past and the future, the calmness and frantic bustle by throwing together the beauty of nature with the stark reality of urban industrialization.
Her artwork has been presented at the "artmeetsgreen" exhibition in Munich 2010 and was featured at "Emphasized Art" which ran from October to December 2011 in Munich. Further exhibitions were among others in St. Tropez (2012), in 9 Artroom in Munich (2013) as well as in the renowned German gallery f 5,6 (2013).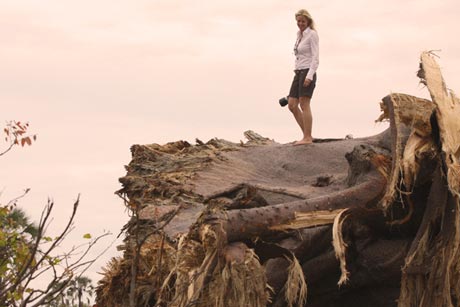 German collectors of her work now include personalities such as Michael Käfer, Professor Hans Georg Näder, Carlolin Schäufele, Sônia Bogner and Boris Becker. Internationally, Stephanie Conley is one of her collectors.
With the aid of Kat Schuetz, Anke's creativity has been introduced through her work to the east coast of America. Nowadays, her art work finds acceptance also at the west coast, in Dubai, Austraila and all over the world.